Published:1.02.2018
Pre-Season Check Over (Are you ready?)
With the February school's half term only a few weeks away and the Easter Holidays being early this year, now is a good time for you to check over your soft ice cream machine.
Why leave it to the last minute? Spend a little time now checking over your machine to make sure everything is in place and ready to go.
Follow our simple 3 step guide for good practice:
1. Inspect your machine and ensure that all the components are there. Assemble the machine and make sure it runs – making sure it makes all the right sounds, the add mix light works and the machine refrigerates etc.
2. Ensure your staff know how to operate the machine – perhaps you have new staff for 2018, do you need to train them in the use of the machine?
3. Check your machine's operator/tune up kit. You can contact our spare parts department and order replacements to ensure it is complete and ready for a busy season.
O Ring Tune Up Kits
Food Safe Lubricant
Stera Sheen Soft Serve Sanitizer
Cleaning Brushes
Mix Feed Pump Hoses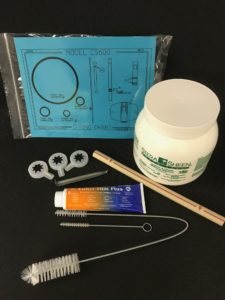 Remember: Only use genuine Factory Parts. Quality parts protect your equipment and prolong its working life.
CONTACT DETAILS
Spare Parts Dept: 02380 629520 or email: service@electrofreeze.co.uk